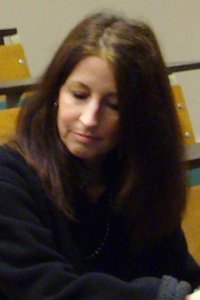 Ever since a car accident in which she suffered severe head trauma, Annabel claims she has been able to see spirits. Her first experience happened while she was recovering in hospital. She was in bed recovering when she heard a child whispering in her ear. Opening her eyes she saw nothing in her room but the whispering continued. It was only when she had a visit from her grandmother and told her what she had heard that her grandmother explained the gift that some of the women had had in their family. It was then that Annabel continually heard and saw the spirits of the recently deceased come to her for help. Afraid of the experience, she sought help from doctors and psychologists. When they couldn't help her, she began seeking advice from others that seemed to share the same gift as her.

After years of practicing with the help of those others Annabel was able to use her gift in ways she could never imagine. She was able to see, hear and talk to ghosts; helping them should they need it or helping those that needed her assistance with the paranormal. She was also able to gain an understanding of the spiritual realms that seem to exist in the afterlife. She has visited many different locations and has experienced many different meetings with the spirit world and has been able to use her understanding to help those trapped in the afterlife to move on. Annabel claims that she has never left a spirit or those suffering at the hands of the paranormal alone in their times of need regardless of how benign or malignant the spiritual forces may be.

She became part of the team when Arron Kasady came across her assisting a family at a location that he was investigating. He asked her if she would be willing to help them with the investigation to which she agreed. Arron was so impressed with her abilities that he asked her along to a few other locations that the team investigated and she has been a vital part of the team since.

Annabel has been able to assist the team in a way they could never have previously imagined. As well as bringing her own knowledge of spirits and the realms they exist in she is also on hand to offer the team members protection and warn them of any challenges they face ahead. Many locations the team has found themselves in situations whereby Ann has had to use all her 'spiritual strength' to see them through. There have been a number of times malevolent forces has shown themselves to her and she has had to protect the team from any harm.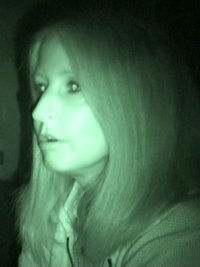 It's because of this spiritualism that Annabel brings to the team that Arron believes they have had more success in contacting spirits then ever before. His belief is that Annabel acts as a beacon for the spirits when they enter locations and that the spirits are willing to interact with the team because Annabel is there to be able to ask them to do so. He has also been impressed with her professionalism at not allowing her self to be phased by what goes on around her and never losing concentration.
Annabel believes the only true way for people to believe in ghosts is to allow themselves to open up their spiritual sides. She believes that everyone is so grounded in their beliefs in science and only what goes on around them that no-one will ever truly know of the spirit world until they pass on. Annabel has shown some of the team members how to open up themselves a bit more which has allowed them to gain an insight into not only how the spiritual world works but also allowed them to gain an introspection into how their own lives work.
The problem Annabel has is not trying to prove anything to anyone,she has tried it, it doesn't work, but getting them to open up their own minds and allowing themselves to see the other side. Only time will tell if she is able to. For now all she can do is help the assist the team and help the lost souls that need her.