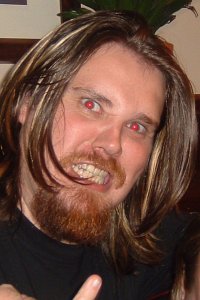 Arron Kasady is a screenwriter, producer, and in his spare time, a ghost hunter. He started writing comic books that were then created by friends, before later turning to writing full-length screenplays.

Arron has had an interest in the paranormal since an early age, when he had an experience that could only be described as paranormal. After seeing a number of investigations, either televised, or following a team already involved in the ghost hunting business, fail to prove whether or not there is life after death, Arron decided the only way to do it was to do it himself.

In early 2004, he decided that he would start up his own ghost hunting team and begin proper investigations into the unknown. He first began by researching as much as he could about other investigations and the locations that took part in them.

He began searching in online forums for other people interested in taking part in ghost hunts, and it was through the forums he came into contact with Dr. Katherine Copeland, a parapsychologist from Canada. It soon became clear that Katherine was more than interested in becoming a regular contributor to the team, so Arron offered her the chance to join as a permanent member.

The first few investigations proved nothing more than interesting history lessons and a way for Arron to fine-tune the ghost hunting process. There was nothing of note that happened, and Arron was becoming aggrieved at not being able to fulfil his dream of proving there is existence after death.

It was at an investigation during the spring of 2005 that Arron came into contact with a medium, Annabel Keogh. After seeing her in action he became impressed with her supposed psychic abilities, Arron asked her if she would be interested in accompanying the team along on some investigations. It was from this time that Arron and the team began to receive more in the way of actual unexplainable phenomenon on investigations. Arron attributed this to Annabel's continuing psychic input stirring up the energies at each location they have been to.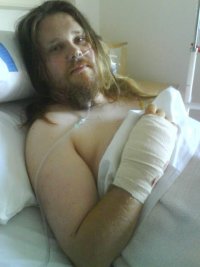 In November 2006 Arron received a phone call from a property developer at Crowley Hall in England, but due to severe paranormal activity, the workmen had stopped work there. Arron saw this as a great opportunity to put another idea he had been having into practice. He wanted to film a documentary of a paranormal investigation at Crowley Hall. After researching the building and the stories, he knew this was the location that could be the best chance of not only getting paranormal activity on camera, but for him to go down in history as the man that proved there was life after death.
He spoke with filmmaker Daren Marc and pitched the idea to him. There was some initial selling on Arron's part, but once he had told Daren of the place and it's history, Daren saw this as a great opportunity to help Arron fulfil his dream and get it on camera. It was only a matter of being at the right place at the right time and being ready for anything that may happen. Arron co-produced the documentary movie 'The Ghosts of Crowley Hall' with Daren and together they developed the idea into a format that would work as a documentary and movie that would appeal to a larger audience.
The first investigation at Crowley Hall started out as they had intended, with Arron conducting the séance later into the night as planned. It would seem as though Arron's impatience in wanting to prove the existence of ghosts, and his reckless attitude managed to stir up something at the hall. In the early hours, he tried to investigate a mysterious figure seen in the cell area, when it appears that he suffered an 'accident'. Shortly after this, it was mutually agreed that the investigation would have to be abandoned for the evening; The forces at play in the hall were considerably stronger than had been anticipated. Arron spent some time in hospital, and decided some time after this that they would have to go back and continue the investigation.
The second visit to Crowley Hall proved more successful, with Arron getting some of the answers he originally went there to find. 'The Ghost of Crowley Hall' was finally completed and released, and with his renewed interest in filmmaking, he has started to write screenplays again, with a view to directing them himself. As well as working on pre-production on the mini documentary 'The Curse of Crowley Hall', an insight into the investigation and curse that has dogged the production from the beginning, he has started writing a screenplay about an alien abduction.