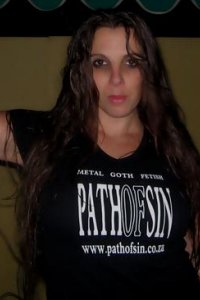 LadyAxe was born in South Africa, and was always travelling during her childhood, as her parents moved around a lot. She was always the brainy chick in class, albeit the outcast brainy chick. Not having friends sparked her imagination and set her artistic spirit alight for years to come.

When she was 19 Axe made her first professional stage appearance as part of the Inhouse Records stable, and much controversy surrounded her for being the first, and possibly only, female metal artist in the Southern Hemisphere. As Death Metal had just taken South Africa by storm, she was not a favourite, as her vocals did not bare the trademark 'growling' most of the male bands were known for.

Axe usually got billed with more melodic/sound orientated bands who retained their heaviness, such as Stryder and V.O.D., as well as Goth and Alternative bands. Axe could never be labelled or pushed into a particular category; Her music tastes range from Enya, to Chris Isaak, to Rob Zombie. She was often compared to Doro Pesch, and has been called the female Bruce Dickinson, or the female Eric Adams, coincidently two of her main vocal influences.

Even though her music was controlled by her record company, personally she was influenced by bands like Metallica, Manowar, Testament, Iron Maiden, Danzig, the Cult and Creedence Clearwater Revival. She appeared with bands like V.O.D. and Stryder in the smoky clubs and biker bars of Johannesburg, Pretoria and Cape Town in the early 90s.

Axe has become known to the International community as a poet and writer of Dark Erotica/ Horror, mostly for her poems of all things wicked in her work, 'Here Be Monsters: An Anthology of Pain'.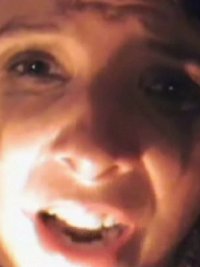 LadyAxe got into the horror movie scene after she was dared to make a short film and enter it into the South African Horror Fest. She wrote and directed the film 'Ukoyika', which is about a young Australian girl who accompanies her aunt as she researches an old mining village. After wandering off she falls down an abandoned mine and encounters the evil that has been buried there for years. The film was shown at the South African Horror Fest in 2007.
LadyAxe became involved in 'The Ghosts of Crowley Hall' documentary movie when Daren and Arron put out an open call to musicians on MySpace requesting a music track to be used for the end credits. She jumped at the chance, and before she knew it, she had become part of the Crowley Team. As she was writing and recording the tracks, Daren asked if she would be willing to shoot a music video to accompany the track. In the New Year 2008 she not only turned in the excellent music track 'The Invitation', but the music video also, which was released over the Internet at the end of January. Part of the track also appears over the titles to the movie.
Since then, she has been actively promoting the movie wherever she can, and is the Crowley Team representative in Africa. In return for her hard work on the track and helping get the movie promoted in Africa and on the Internet, her short movie 'Ukoyika' appears as an extra on the DVD to promote her work as a film maker.
LadyAxe is currently working on her new album 'Fe-Metal' due out in August 2008. She is writing and recording all the tracks herself, which will include many new tracks, along with 'The Invitation'. She is also working on her new short horror film 'Eight' which is due to be released later in the year.